Oil BDV Tester
The KEP OLT-80 80KV Automatic Oil testers accurate check breakdown voltage on dielectric liquids utilized typically in electrical equipment & specifically oil in transformers.
Oil suffers from electrical and mechanical stresses and contaminations caused due to chemical interactions with windings, solid insulation, and high operating temperature, resulting in the original chemical properties of Oil changing over time rendering it unusable for its intended purpose. The oil must be periodically tested to ascertain if it is suitable for further use, if necessary, filtration should be done or if it should be replaced.
OLT Series Oil BDV testers featured are manufactured by Kharkov Energo Pribor, Europe.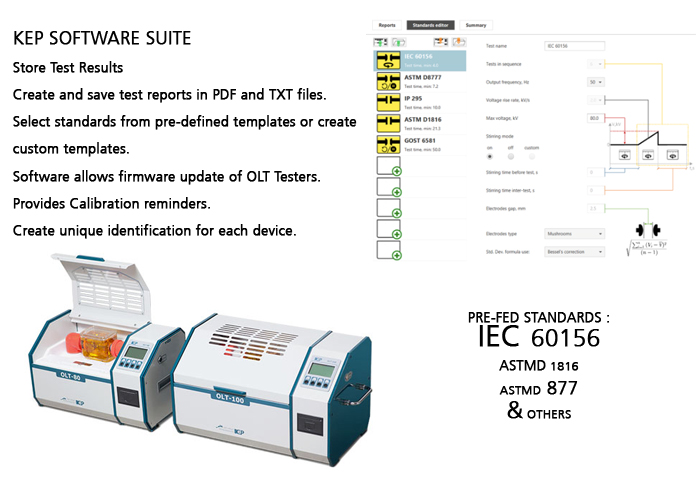 Standards: KEP Oil BDV test kits ensure a fully automatic test procedure according to the selected standard and have a built-in printer to print a test report after testing.
Standards such as IEC 60156, ASTM etc are pre-fed in the instrument to allow operator to perform test as per standard selected from system menu.
Accuracy: Test voltage is measured directly on electrodes. This fact combined with true sine voltage shape (independent of supply voltage shape), increases repeatability and accuracy of measurements.
Test vessel: OLT Oil testers are provided with a test vessel (IEC 60156 - basic configuration) with VDE 0370 mushroom-shape electrodes. The gap between electrodes is easily regulated with a pass- no pass gauge, provided as part of standard supply.
The test vessel is provided with a magnetic stirrer, which stirs the liquid being tested between consecutive measurements
Data Storage & Print: Built-in printer to print a test report after testing. Test results are saved into the non- volatile memory of the tester. USB Connectivity allows data transfer to PC
Safety: OLT system will automatically cut off the voltage supply if the tester lid has been opened during the test to ensure a high level of safety to the operator.
Safety and EMC Compliance:
Designed in accordance with IEC 61010 safety requirements.
Meets light industrial IEC 61326-1 Class B, CISPR 16-1, CISPR 16-2 and CISPR 22.