2011-12

CSCOPE UK Bestows award of Centre of Excellent in Asia Pacific to Stanlay
CSCOPE UK, the worlds premier designed & manufacturer of Cable avoidance tools & pipe & cable locating products has bestowed the award for the Centre of excellence in Asia Pacific region 2011-12 to Asian Contec Limited.

PROCEQ Asia on behalf of Proceq SA appoints Asian Contec as the authorised & preferred distribution partner
Proceq, the worlds permier designer & manufacturer of highly specialised ground breaking Non destructive testing products for concrete and metals has appointed Asian Contec Limited as its authorised and preferred distribution partner in India for providing application consultation, supply, after sales and training on its suite of quality NDT product suite covering concrete inspection comprising the Silver Schmidt Digital concrete test hammer, Punditlabd Ultrasonic pluse velocity tester, Profometer & Profoscope rebar locators etc.

2009

Stanlay will be exhibiting at the Excon 2009, Construction Equipment and Construction Technology Trade Fair between November 25th - 29th, 2009 in Bangalore International Exhibition Centre, Bangalore. Stanlay is located at Stall 193 ~ 195, Hall 3. Excon is South Asia's largest trade fair on Construction Equipment & Construction Technology.
Stanlay will be focussing on showcasing it's latest equipments , innovative technologies, and solutions for the construction and infrastructure segments. New launches will include the latest range of:
* American Auger boring machines, drills for the oil , gas & water pipelines , trenching equipments
and vertical rigs for the oil drilling sector.
* Pipe and cable locators for the pipeline, railway construction and civil construction sectors.
* Laser leveling devices , modern measurement solutions and non destructive testing products
for the civil construction sector.
* New safety product solutions .
* Latest generation survey product solutions designed to make the survey job easier than
ever before.
November 2007
Stanlay exhibited at the Excon show which was a resounding success with visitors and existing customers from the construction and infrastructure sector. For more details visit: http://excon.in/siteex/excon/restro.jsp?eventid=19743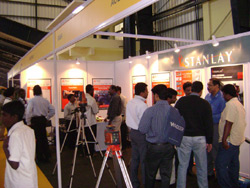 2007
1. World's first manufacturer of HDD machines and Quick track auger boring machines Astec USA Group of companies comprising American Augers, Astec Underground and Trencor signed exclusive distributorship with Asian contec limited New Delhi for India, Bangladesh and nearby countries for sale and after sales support of their product range. Astec group had signed this relationship after detailed due diligence and survey of complete market . This long term arrangement was signed in 2004. Asian Contec limited has supplied Auger boring Equipment to all the leading Pipe laying companies in India including : Reliance, L&T ,Essar, Punj Lloyd, Gammon , Kirloskar, Stroy TransGAz, Kaztroy, Maytas amongst others. Most of these clients have multiple machines and are most satisfied customers. Astec has supplied 1st lot of trenchers for direct laying of optical fiber laying and also for quick cable laying work for Metro's. Reliance cross country East west pipeline project from Kankinada to Gujarat used American augers boring machines for the entire length. American Augers large Drill was also deployed for one of the biggest under river crossing job in Andhra Pradesh. 2. American Augers supplied the biggest HDD rig in India of its class during 2007 in western india.
2004
Stanlay exhibited at the interbuild show 2004 and received the 1st prize for the most functional products from a panel of eminent judges from the construction industy.